Main Content
Welcome
Whatever your religious background and however you have come to be here with us, we welcome you. We hope that you will feel comforted and fulfilled, and that through worship and fellowship you will be strengthened to meet the challenges of your daily lives. We would love to welcome you into this community of faith. All are welcome. Come as you are.
Love God. Serve Every Person.
Live the Good News of Jesus Christ.
Weekend Worship Services
Due to the Coronavirus, weekend services are available on Zoom or FacebookLive until further notice.
Download Worship Bulletins below:
Taizé Contemplative Evening Prayer Saturday, April 10, 2021 @ 7pm  click here
The 2nd Sunday of Easter: Sunday, April 11, 2021 @ 9am  click here
Sundays – 9:00am
Ante- Communion Rite II, with organ music
2nd & 5th Sundays –
Ante-Communion Rite I, with organ music
Saturdays – 7:00pm Contemplative Evening Prayer, with Taizé Chant
Prayers for healing are offered on
2nd and 4th Sundays.
Celebrating our Blessings
Celebrating the blessings we received in 2020. Click photo to watch video (2:36).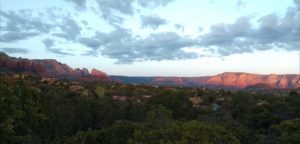 St. Francis Day
Thanks to all of our furry neighbors who came out for blessings on St. Francis Day. We were truly blessed by your presence. Click photo to watch video (0:10).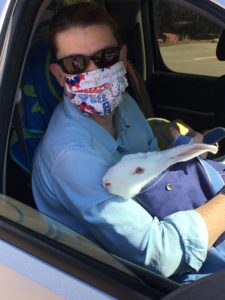 Had so much fun on St. Francis Day blessing the dogs and cats waiting for a forever home at The The Humane Society of Sedona. Click photo to watch video (0:10).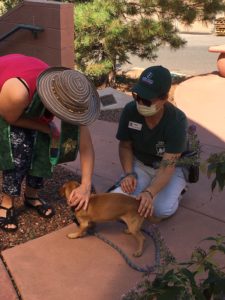 Weekday Worship Services
Due to the Coronavirus, all weekday services are available on Zoom, or suspended until further notice. Contact the Parish Office for Zoom links.
Mondays – 3:00pm
Centering Prayer (2nd & 4th Mondays) – Zoom
Wednesdays – 10:30am
Contemplative Prayer – Zoom
Thursdays – 10:00am
Gospel Co-op Worship – Zoom
Fridays – 9:00am
Morning Prayer – Suspended
Labyrinth Walks
Our outdoor Labyrinth is open daily
to the public for contemplative walks.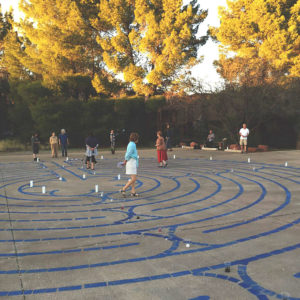 Indigenous Peoples Day
Winifrid Follett and Ree Hudson (Cherokee) creating a medicine wheel in observance of Indigenous Peoples Day. Special thanks to Ree for a beautiful and moving medicine wheel ceremony and reflection on her prison chaplaincy. Click photo to watch video (0:35).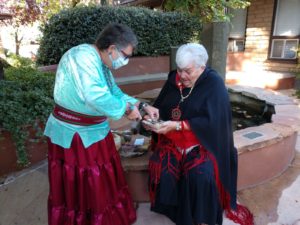 Seasonal Celebrations
Way of the Cross Liturgy
Friday, March 19, 2021 @ 10am
The Way of the Cross is a devotion consisting of prayers and meditations before 14 Stations or images set up in a church or along a path to commemorate the events associated with our Lord's passion and death. Download the liturgy here. Connect on FacebookLive.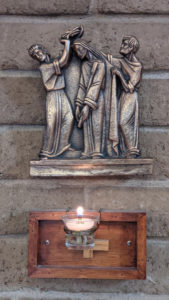 Lenten Devotional Resource
Create your own Lenten devotional space for prayer and contemplation using some sand, a rock, a shell, a candle, and a human figure. Download the Lenten Devotional Resource here.