St. Andrew's Pastoral Care Ministry offers the opportunity to care for people in need in our faith community and in the wider community. Members of the clergy or pastoral care team are available to provide pastoral care with parishioners or family members at their home, in the hospital, or in hospice care upon request per HIPAA regulations.
Eucharistic Visitors
Individuals are specially trained and licensed by the diocese to bring communion to homebound and hospitalized parishioners. If you feel called to this ministry, please speak with Rev. Monica.
Healing Prayers & Anointing
Laying on of hands, prayers for healing, and anointing with oil are offered during worship services on the 2nd and 4th Sundays.
Prayer Chain
This group prays for the special needs and concerns of parishioners, especially in times of illness and death. Individuals may be added to the parish prayer list which is published in the weekly newsletter. If you have someone you would like us to pray for, please contact the parish office.
Living with Grief
Living with Grief is a support group for St Andrew's parishioners who are experiencing the pain of a loved one's death. Understanding that there are common threads running through the grieving process, our goal is to help each other by sharing our similar feelings. The group is facilitated by the Rector and several volunteers, and the meeting schedule is set by participants according to their goals and needs. Contact the parish office for more information.
Visiting Local Care Centers
St. Andrew's clergy and pastoral care team visit residents at Sedona Winds Assisted Living and Haven Health every month to sing and pray together, and share the Eucharist.
Wellness
The Wellness Ministry invites all to follow Jesus' example of promoting health and preventing illness. Wellness is an active process of becoming aware of and making choices toward a healthy and fulfilling life. Wellness is more than being free from illness, it is a dynamic process of change and growth.Toward that end, the Wellness Ministry is a source of information that enables individuals and families to make choices that will lead to the optimal level of health possible within the framework of their particular health states. The information is provided both through one on one discussions and through health promotion articles in St. Andrew's monthly Evangelist newsletter. Contact the Parish Nurse through the parish office.
Columbarium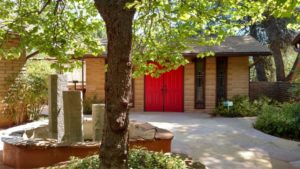 St. Andrew's Columbarium is a beautiful sacred space where the cremated remains of loved ones may be laid to rest and cared for in perpetuity. Niche spaces and memorial plaques may be purchased for any member of St. Andrew's church. The Columbarium is a peaceful place for visitors to meditate as they remember loved ones who have died. For information on purchasing a niche, please contact the parish office.